L'ile de Ré, is located in front of La Rochelle on the Atlantic Coast. Its has been well protected and it's a paradise to all nature lovers. It's an ideal place for family vacations at any time of the year. You can discover the whole island by bicycle over the 120 kms of cycle paths. Discover its 10 typical villages, white houses, harbours, salt marshes, long and preserved beaches. Every season has its advantages and offers an exceptional light.
Ideal spot to spend some nights with friends in our guest house. You will be able to enjoy the calm and peaceful atmosphere of the island. We speak english and will be glad to share a coffee and our love of the island with you. Many activities are available : thalassotherapy centres, long walks on the beaches, bike rides, walks in the 10 villages (Saint-Martin de Ré is designated a UNESCO World Heritage and other most beautiful villages of France), museums, restaurants, nautical activities (sailing, surfing, paddling, kite), and of course the visit of La Rochelle and its historic heritage. 
For longer family stay you can rent our holiday cottage (gite). The long and safe beaches with nautical activities offered to children (sailing and surfing school), the 120 kms of safe cycle paths make it an ideal destination for holidays not only in summer time but also for the spring and autumn breaks.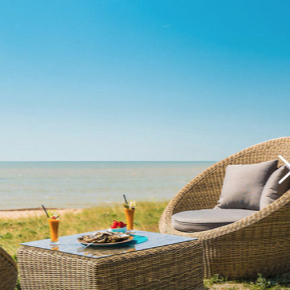 Ideally situated in front of the sea, the Thalasso centre of  Sainte Marie offers is open all year round.
Two other centres  on the island in Ars-en-Ré and La Flotte, makes it an ideal destination for well-being seekers.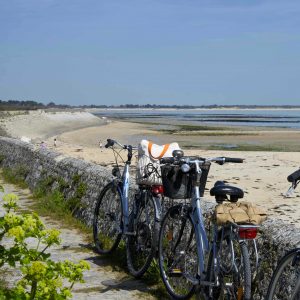 The island focussed on the protection of its environment and every year more cycle paths are built. You can safely discover the whole island by bike. The island is flat (no hills) and is a perfect place to practice.  Upload the cycle map don't forget to book in advance your bikes from bike rental shops during the summer time. Rental shop  5 minutes walk from our Guest house. You can also make long and pleasant walks on the beaches, forests and among salt marshes.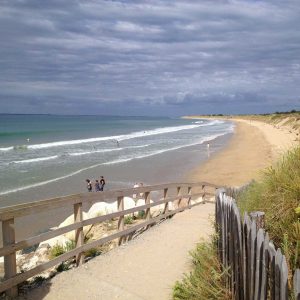 Many beaches on the island. They are all different each has its particularity and charm (some are small and quiet, others are surf spots …).  Many nautical activities are offered : surf (Re-surf), paddle (stand-up-paddle-iledere, Papaipaddle), kite (Ilederekitesurf), sailing (3 clubs à La Couarde, le Bois, Loix, and schools in Rivedoux, La Flotte et Ars), sea kayak, boat rental or tour, scuba-diving (Le Nautilus).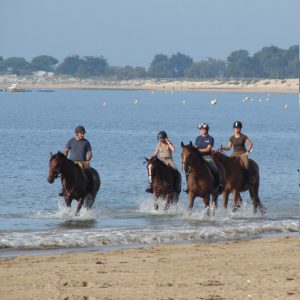 Many riding stables are located on the island and 3 close to our guest house (Moulin Moreau, Les Evières, Equipassion).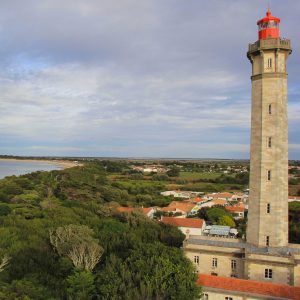 L'île de Ré also called "Ré La Blanche" does not only offer sport activities… You will also discover typical villages among them one is designated a UNESCO World Heritage site and other are designated "most beautiful villages of France". The 10 of them are typicals, with white houses, small pedestrian flowered streets (venelles). You'll be able to stroll, rest at a cafe and do a little of shopping.  You can visit some historic monuments and museum to understand the history of the island (Musée Ernest Cognacq,  Musée du Platin, Ecomusée du marais salant, l'Ancre Maritaise …). Don't forget to climb the 256 steps of the  Phare des Baleines to get a view of the island.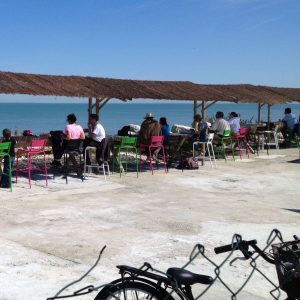 L'ile de Ré offers many local cuisine and some oyster farmers make it possible to taste their production directly in front of the sea during your cycle tour. You will find many gastronomy restaurants in the different villages.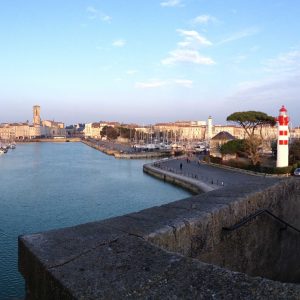 The city of La Rochelle is closed and is worth a visit.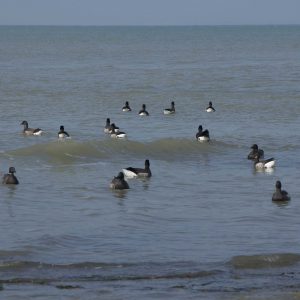 For bird lovers, the réserve naturelle de Lilleau des Niges  organise bird watching visits (all year long), but you can also watch by yourselves as the cycle path goes just next to the reserve.
Don't think more about it. Come and visit, you won't regret it ! Look for our availabilities.
We are at your disposal for more informations, and will be glad to help you organise your stay at our Guest House.