Guest House on Ré island in La Noue
DISCOVER THE ISLAND
Situated on the Atlantic coast, in front of La Rochelle, the island of Re has a warm and sunny weather. The island managed to protect its environnement and you will not be insensible to its charm and light.
ENJOY THE ISLAND
After a quiet and restful night, taste our breakfast with homemade products. Enjoy the nature (beaches, salt marshs) and discover the island and its typical villages with its 100kms of cycle ways. Don't gorget the cultural aspects with museums and Vauban's fortification in St Martin de Ré. Of course the city of La Rochelle is just 20 minutes away and is worth the visit.
We speak english and will be glad to share a coffee and our love of the island with you.
Les Petites terres is located very close to the Place des Tilleuls with a couple of great amenities (bakery, cheese-shop, restaurant, fish-shop, market…) and a short walk from the beach. It is a good base to go exploring the island. The house has two bedrooms and a livingroom with a kitchen. Both rooms have en-suite bathrooms and are situated on opposite sides of the flat − everyone can have their privacy. A small garden and terrace is in front of the house. Free coffee, tea and of course wifi everywhere.
You can either book one room as a B&B or rent the whole house for 5 persons.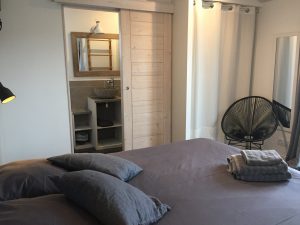 From
€70 per night
DETAILS OF THE ROOM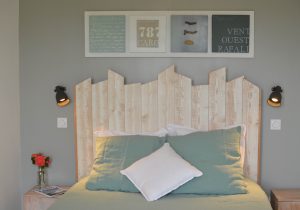 From
€ 70 per night (for 2 pers.)
DETAILS OF THE ROOM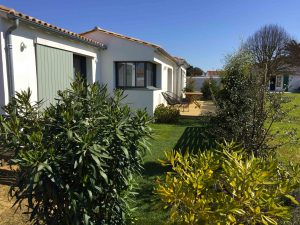 From
€ 650 a week
DETAILS OF THE HOUSE
Direct Booking via Elloha (secure plateform)

Loading…
Les Petites Terres are located in Sainte-Marie-de-Ré, 4 venelle de la Tonnelle on Ile de Ré.
By car
From Paris, 4h Highway A10, exit 33 Niort-La Rochelle.
After the 5th roundabout afetr the bridge , Turn left dir. Sainte-Marie-de-Ré, La Noue Centre
By Train
La Rochelle Train Station,
Bus Les Mouettes (ligne 3) from the station to La Noue (Ste Marie de Ré),
Stop "Crapaudière".